AU3FX:Dub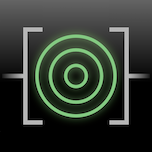 Stereo AUv3 delay effect for everything from clean digital delays to filthy dub echoes, ping-pong flangers, and broken cassette tapes.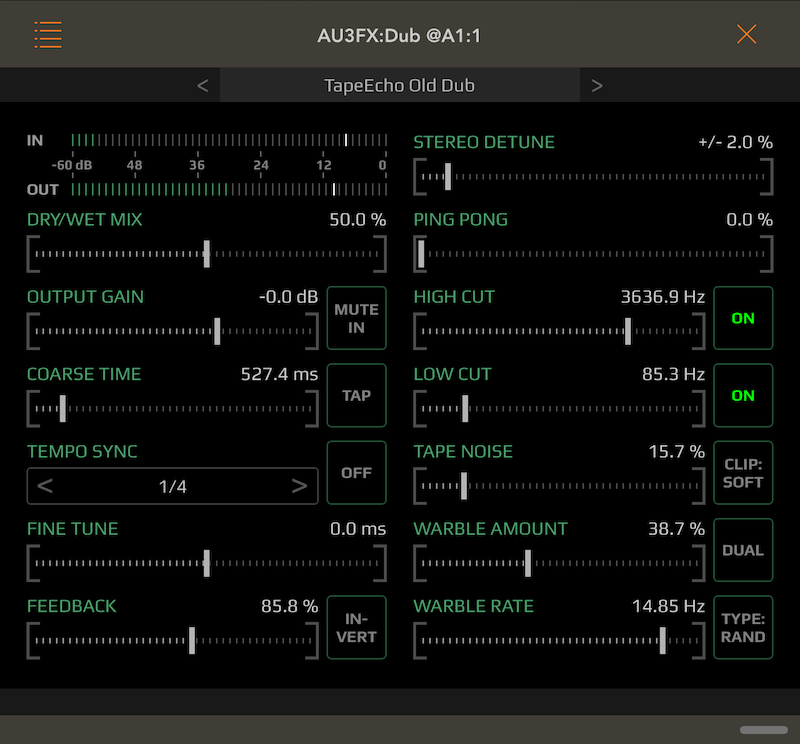 So glad this is finally AUv3! ★★★★★
One of the best iOS delays available!
Top Notch AU FX ★★★★★
One of my go to AU FX apps, awesome delay but so much more.
Quality. ★★★★★
Along with Space, highly recommended. Works perfectly and sounds amazing.
A highly tweakable stereo delay audio effect, suitable for a wide range of delay types. It features tape simulation (noise and warble), filters in the delay loop for typical dub sound, stereo detune, ping-pong delay, sinewave and random modulation for flangers and chorus, and more.
Parameters
DRY/WET MIX

Set the balance between the dry unaffected signal and the delay effect.

OUTPUT GAIN

Adjust output level.

MUTE IN

Mutes the signal feeding the delay, but leaving the delay tail sounding.

COARSE TIME

Delay time in milliseconds.

TAP

Tap a tempo to set delay time.

TEMPO SYNC

When ON, set delay time as a note value based on current host tempo.

FINE TUNE

Make small adjustment of delay time.

FEEDBACK

The amount of feedback, controls number of repetitions or how long the delay time decays.

INVERT

Inverts the feedback loop. The difference is more pronounced with very short delay times.

STEREO DETUNE

Detunes left and right channels delay times in opposite directions.

PING PONG

Amount of stereo ping-pong effect.

HIGH CUT

When ON, set cutoff frequency of low-pass filter inside the feedback loop.

LOW CUT

When ON, set cutoff frequency of high-pass filter inside the feedback loop.

TAPE NOISE

Inserts noise in the signal chain.

CLIP: HARD/SOFT

Switch mode of clipping inside feedback loop. SOFT giving a more tape-like saturation.

WARBLE AMOUNT

The amount of delay-time modulation

WARBLE DUAL

When active, warble modulation are different for left and right channels.

WARBLE RATE

The frequency of delay-time modulation.

WARBLE TYPE: RAND/SINE

Select delay-time modulation type, random fluctuations or sinewave LFO.
About AU3FX
The AU3FX series is a collection of lightweight and powerful real time AudioUnit effect apps for iPhone, iPad and iPod touch. Ported from the original AUFX Inter-App Audio effects, now in AUv3 format.
Load and use them in an AUv3 capable host, such as AUM.
As AUv3 plugins, it supports:
multiple instances at the same time
save/load session state
external access and control of all parameters
user presets shared across hosts (on iOS 13 and later)
Videos