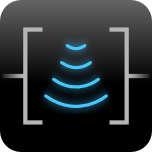 High quality tweakable reverb with resonant filters. For everything between small rooms, resonators, and infinitely large spaces.
An algorithmic reverb with a wide range of sounds. Built-in resonant filters for powerful coloring of the space. The Swirl parameter allows for making modulated moving lush ambiences.
Kymatica = quality. ★★★★★
Simple, clean, easy to use... And sounds better than hardware units I've owned at literally a fraction of the price.
Magic. ★★★★★
I love it. Easy to use and sounds amazing.
Simply the best! ★★★★★
Very clean sounding, user friendly, beautiful minimalist graphic! Highly recommended!
Perfect reverb app ★★★★★
Sounds great, for anything from a minimal "room" effect sound to a drenching wash that makes jingling keys sound like a symphony. Pretty amazing. Great integration into audiobus, AudioShare, not CPU intensive. Very, very usable and musical.
Great reverb! ★★★★★
We all know that high quality FX apps, specially reverbs, are still hard to find in the iOS domain. This one sets a new standard for this type of effect, specially at this price tag. Excellent! Keep those apps coming!
Priiiimaaa! ★★★★★
Endlich platz im sound ! Thanks for a nice roommashine
The AUFX series is a collection of lightweight and powerful real time Inter-App Audio effect apps for iPhone, iPad and iPod touch.